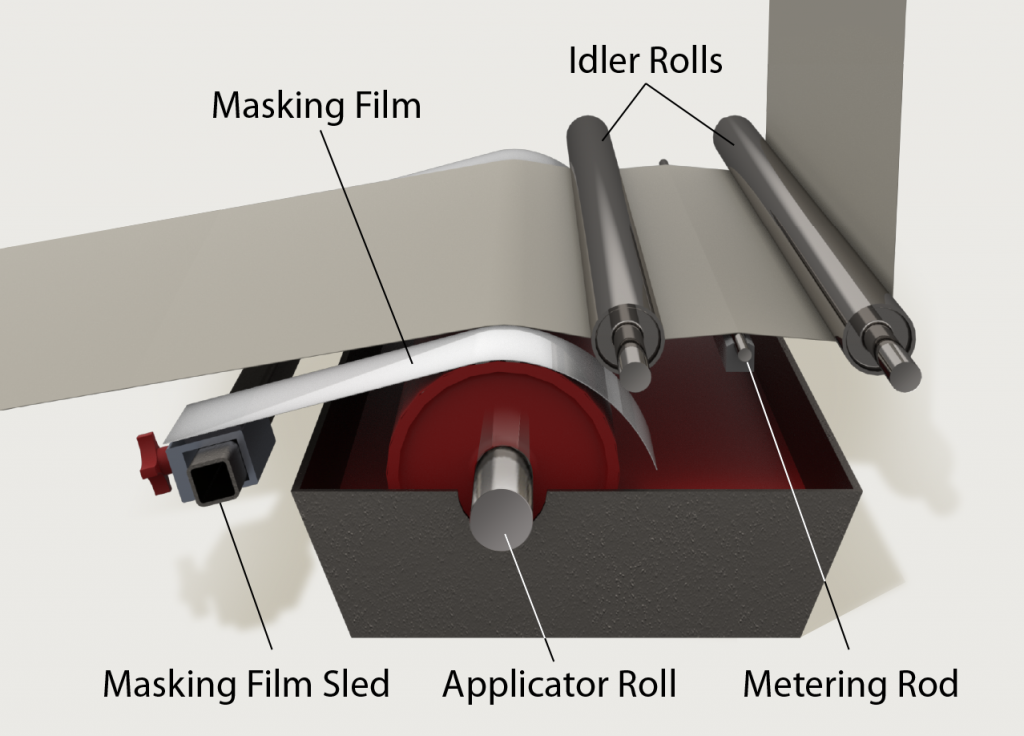 Buschman has developed new Masking Film, a versatile, innovative, new product that enables paper converters and manufacturers to accurately create a clean, dry edge when applying coatings to paper and other substrates.
Buschman is the first and only metering rod technology company offering a comprehensive coating edge control product solution.
In a traditional rod coating operation, excess coating is applied to the substrate with an applicator roll. As the applicator roll turns in a pan, it transports the liquid coating to the moving substrate.
To prevent coating from being applied to the substrate, masking film is placed between the applicator roll and the substrate to isolate the pre-coat flood within application-specific locations. This process is sometimes called zone coating, strip coating, or pattern coating.
Buschman's new Masking Film is a simple, economical way to precisely control which areas of the web remain dry. Masking Film comes in pre-cut 50-sheet bundles and 50ft rolls. Velcro is adhered to the back of the film for attachment to the machine.
Buschman also has created an adjustable Masking Film Sled, a convenient companion product for attaching Masking Film to a coating station. The movable Sled can easily be adjusted in the machine cross-direction to mask the dry area required. In locations where the masking film is sandwiched between the moving web and the turning applicator roll, liquid coating will not be applied to the web.
Note: For dry edge control, Buschman recommends using two sleds, one for each side of the machine.
Advantages of Buschman Masking Film & Adjustable Sleds
Buschman's new Masking Film and Masking Film Sleds offer valuable benefits for paper coaters and converters:
Accurately and consistently control coating at the edge of the sheet for a better finished product;
Resolve quality issues created by film that has been poorly adhered;
Significantly reduce setup time;
Eliminate the frustration of using inferior fastening methods, such as c-clamps.
Masking Film Product Specifications
24in long, 5in wide
Comes with a 2in wide strip of Velcro loop material adhered to it
Available in 50-piece bundles of pre-cut sheets or in 50ft rolls
Custom widths available upon request
Easy to cut at your facility to your required width with scissors, a razor knife, or a large paper cutter that can accommodate a 24in sheet; Buschman recommends using a straight edge and razor knife for cutting.
Masking Film Sled Product Specifications
Manufactured of machined aluminum
Dimensions: 5in x 2.25in x 4.25in
Weight: About 20 ounces
Attaches to a 1.5in square tube located before the applicator roll
Can be easily adjusted by loosening the locking knob, sliding the sled to the desired location, and locking it down again with the knob
Customers who don't have a 1.5in crossmember can easily add one using 8020® aluminum framing rails with at least one solid face