Buschman: The Metering Rod Authority
Buschman was founded in Ohio in 1977 as a manufacturer of wire-wound rods used in coating applications.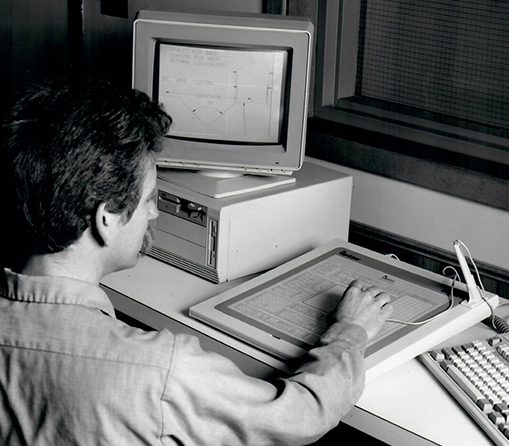 Our company founder, Thomas Buschman, invented a process for creating grooved metering rods with thread patterns customized to the needs of specific industries. Buschman's grooved rods delivered such outstanding results to paper and converting mills that had been using traditional wire-wound or Mayer rods that our grooved metering rod products quickly became the industry standard for trusted quality and precision.
Buschman's reputation for consistently producing superior rods led to rapid growth and the development of new processes for the manufacture of grooved and smoothing rods. Companies around the world asked us to design rods customized to their specific machines and applications. We developed top-quality rod holders to hold rods in place securely. We also continue to offer Mayer rods and complete parts and service for equipment.
In 1992, we developed a state-of-the-art manufacturing plant in Cleveland where we have continued to fine-tune our manufacturing capabilities and build unmatched expertise in coatings technology.
From Coiled Steel to Precision-Finished Product, All in One Facility
Buschman is the only metering rod company that manufactures everything in-house.
We utilize a unique production process that enables us to control every stage of manufacturing to ensure compliance with the highest quality standards. We maintain a quality process consistent with ISO 9001 to produce the finest quality rods for metering, coating, and sizing applications. The result is metering products that perform with consistent excellence. We provide fast, dependable delivery to customers around the world.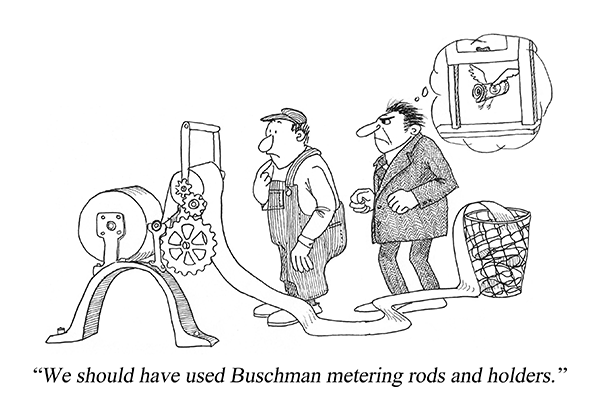 The Buschman Product Advantage: Precision
Buschman metering rods are known for their exceptional precision, which results from our dies and our quality control policies.  Buschman grooved coating rods are certified for quality. Here's why precision is the most important aspect of our metering rod design and manufacturing process:
Precision allows you to know exactly what machine parameters need to be set to after making a rod change. If rod specifications change from rod to rod, it takes some time to get the machine into proper adjustment. Consistency from rod to rod is essential. Precision creates consistency and reduces scrap.
Precision allows for less wear and tear on machinery. Using improper tensions and bladder pressures can damage machinery and wear it out prematurely.
Precision improves overall quality of the customer's finished product. Precision means less streaks and improper coat weights.
Precision reduces cost. Applying the exact amount of coating in exactly the right way saves money.  Too little coating means the quality suffers. Too much coating can cause the cost of chemicals and energy to skyrocket.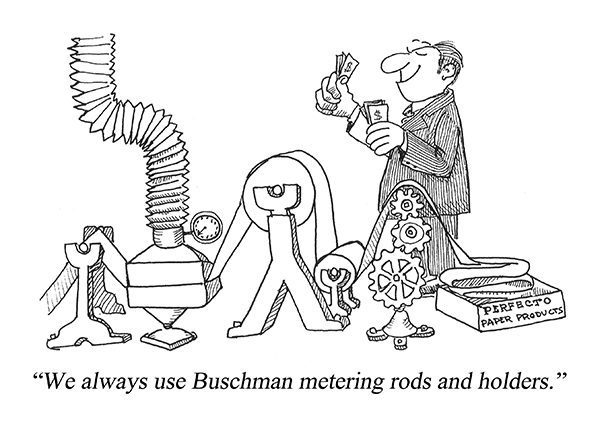 A Highly Skilled Team of Engineering and Manufacturing Professionals
Our associates are cross-trained in most aspects of our manufacturing methods. This highly capable work force is organized into self-directed teams who are not only empowered to instigate change but who are also responsible for many of the improvements that have made us so successful. Their abilities ensure that we produce superior rods that help our customers achieve their primary goals while also enjoying longer rod life and lower costs.
Our single-minded focus on quality and product innovation has made us the supplier of choice for many of the largest paper mills and converters.
How to Order
Our engineering team will work with you to customize long-lasting metering rods for your application. Call us or use our online form to request a quote.
Call us at +1 216 431 6633