Metering rods are used to apply coatings to papers, films, foils, and other substrates.
One of the biggest challenges coaters face is knowing how to monitor and measure rod service life. The goal is to optimize rod use and to replace rods at the right time to avoid quality issues.
Metering rods are usually taken out of service when:
They no longer apply enough coating;
The coating is no longer smooth and uniform.
Though these determinations are application specific, they can be monitored in many ways. A few common methods include:
Direct coat weight measurement;
Production tracking;
Brightness;
Opacity;
Visual coating quality check;
Loss of functional properties (Cobb Test, MVTR Cup Test, etc.).
Regardless of the method used to determine when a metering rod is no longer achieving performance targets, the point at which most coating operators would call the rod "worn," it's important to make the distinction between the two main factors that lead to decreased coat weights and metering rod end of life: Physical wear and contamination.
This determination will allow you and your metering rod supplier to determine the most logical steps for your operation to maximize rod performance and the quality of your finished product.
Physical Wear v. Contamination of Metering Rods
There are two main factors that contribute to end of life of a coating rod. It is extremely important to understand the difference between the factors and to determine which is more impactful in your operation.
Buschman has several decades of experience helping paper mills, paperboard mills, and converting plants achieve their coating objectives. We custom-engineer thread profiles for the most demanding applications, working closely with coaters to determine and optimize thread profiles that maximize rod performance and life.
We have seen countless coating operations throwing away "worn" metering rods only to discover there was little to no wear occurring – the threads were simply contaminated with coating debris.
We've found that the most accurate way to determine whether you are experiencing pure rod wear or rod contamination is a wear analysis. Your metering rod supplier should be able to conduct a wear analysis at your request.
Physical Wear
During normal operation, metering rods are subjected to friction, abrasives, heat, and other factors that cause the rod to physically wear. In these cases, the crests of the threads are actually worn down, reducing the open volume of the thread as shown in Figure 1.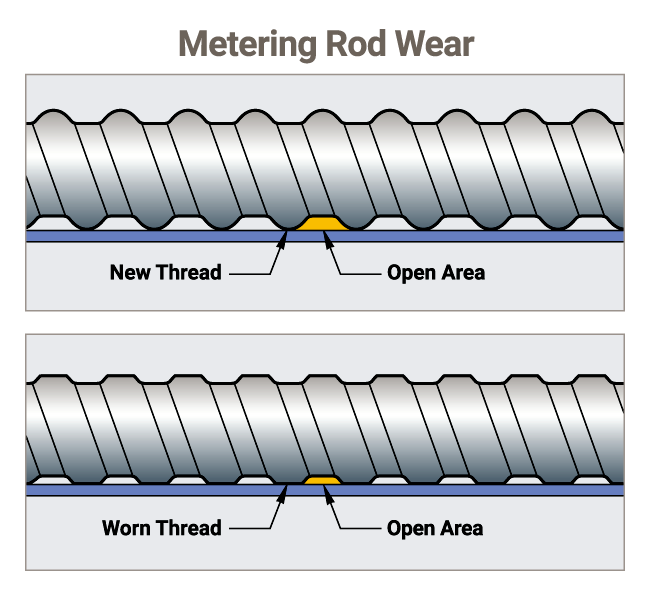 Contamination
Rod contamination occurs when dried coating and other debris becomes lodged in the thread. As the root of the thread fills with debris, the open area of the thread is reduced as shown in Figure 2.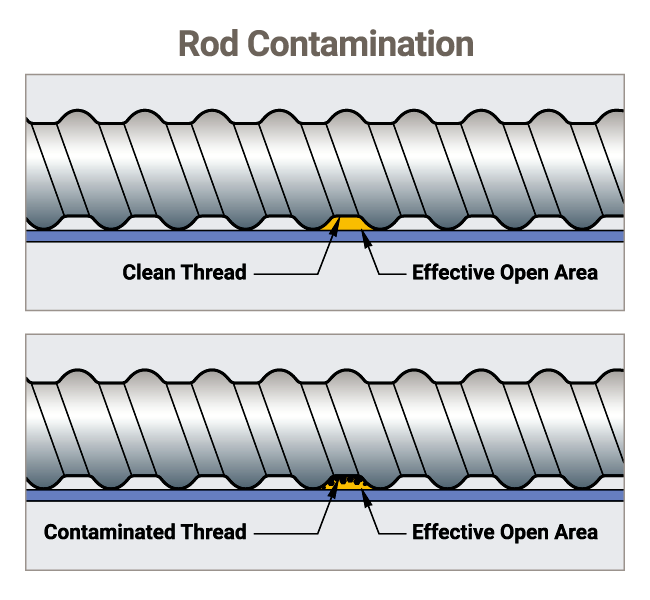 Whatever the case with your operation, it's important to understand that physical wear and contamination both cause the same problem: The open area of the thread is reduced, which reduces the amount of coating applied to the substrate.
How to Measure Metering Rod Life
In our experience, the best ways to measure the life of a metering rod are tracking individual rods during production and using an in-line coating measurement system.
Individual Rod Production Tracking
With this method, a production history log is kept for every metering rod. This is a very accurate way to track metering rod life, but it requires disciplined tracking of each rod used.
Every metering rod Buschman produces is marked with a unique numerical identifier (serial number). This number can be used to correlate production history with a specific rod.
For example, if you know that a rod lasts 50,000 linear meters on average, you can track this in a spreadsheet. When the rod has 25,000 linear meters of production recorded against it, you can assume the rod has 50% life (25,000 linear meters) left.
In this example, it is assumed the rod is only used for one specific product and the web width and coating application parameters remain constant.
In-Line Coating Measurement System
Perhaps the best method of monitoring rod performance is using an in-line coat weight measuring system. The newer systems are quite sophisticated and can instantly alert you when coating volume becomes insufficient.
Continual coat weight monitoring offers other important benefits, such as:
Early detection of defects, like uneven coating;
Integration with quality tracking systems;
Reducing coating costs by detecting excess coating in real time.
How to Maximize Metering Rod Life
Following a few simple steps will maximize the life of any metering rod. Here are four ways to do it:
1. Storage
Metering rods are precision instruments and must be stored and handled with care. All rods should be shipped in individual protective covers. When not in use or being cleaned, covers should remain on rods to prevent damage to the rod surface.
Rods also must be stored in a manner that prevents bowing or bending of the rod. A bowed or bent rod will often cause coat weight variations and/or shadow marks in the coating.
2. Cleaning
Whenever possible, rods should be removed from the machine at the end of any production run and cleaned immediately.
For water-based coatings, immediately immerse the rods after use in warm water mixed with detergent (liquid dish soap). For coatings containing industrial solvents, immerse the rods immediately after use in a container of the same solvent used in the coating.
After the rods have had time to soak, use a fine brass-bristle brush and gently scrub, rinse, and dry the rods and place in proper storage. Buschman supplies specialty brushes for this purpose with 0.075mm (0.003in) brass wire.
3. Handling
When moving a metering rod, avoid hitting objects that could damage the rod surface. Even minor damage can cause costly coating defects. When carrying longer rods, ensure enough people are utilized to support the rod properly to avoid bending.
4. Rod Rotation
Metering rods are designed to rotate in operation for multiple reasons. But as it relates to wear, metering rods should be rotated constantly to ensure wear occurs evenly around the circumference of the rod.
Metering Rods: A Critical Component of Coating Quality
Metering rods are consumable items. They wear out naturally during operation and may become contaminated. Following these recommendations and keeping an open line of communication with your metering rod supplier will help you maximize the life of your metering rods and the quality of your finished product.