Wrap angles control the amount of substrate in direct contact with the metering rod in paper coating. Like most coating application parameters, wrap angles need to be carefully considered and strictly controlled to meet your exact specifications.
But determining the right paper coating wrap angle can be a difficult process. Many factors must be considered to achieve the desired results.
As one of the world's leading manufacturers of metering rod technology, we are often asked about the best ways to determine wrap angles by converters who use our smoothing and grooved metering rods.
Here are some guidelines on proper wrap angles from our experience and the reasons why wrap angles are so important to high quality coating.
How Wrap Angle is Controlled in Rod Coating
Most converting coaters can control wrap angles on the rod. This is typically done using idler rolls before and after the metering rod. The idlers can be raised or lowered to various positions to control the wrap angle on the rod.
The greater your ability to control rod coating operations, the more options your operators have to dial in application parameters to achieve your target objectives. Since every application is customer specific, a trial and error approach is required to determine the appropriate wrap angle for your coating application.
The ideal wrap angle for any coating operation will depend on many factors and should be determined through controlled trials. The wrap angle on coating stations should be easily and quickly adjustable. In many cases, the ideal wrap angle for one product may not be the ideal wrap angle for another. You may find that adjusting the wrap angle between products can improve the quality of your finished coating.
Most common wrap angles are between 7° – 25°. If you are starting a new rod coating line or coating a new product, a 12-degree wrap angle is a good starting point. Based on other application parameters, you will likely need to adjust the wrap angle more or less to determine the best angle for your needs.
Why Wrap Angle Matters in Paper Coating
As with loading pressure, we advise our customers to keep the wrap angle to a minimum.
As wrap angles increase, so does the arc-length of surface contact between the web and the metering rod as shown in Figures 1 and 2. This can decrease finished coating volume because it essentially results in a longer channel through which the coating must pass, creating more drag on the coating as it moves through the metering rod threads. Larger increases in wrap angle, especially with higher viscosity coatings, may even require increasing your rod size to compensate.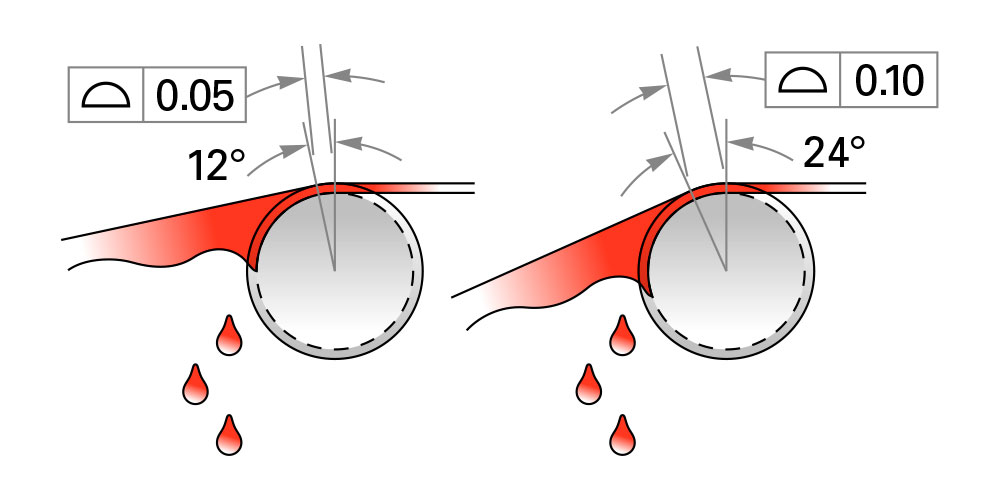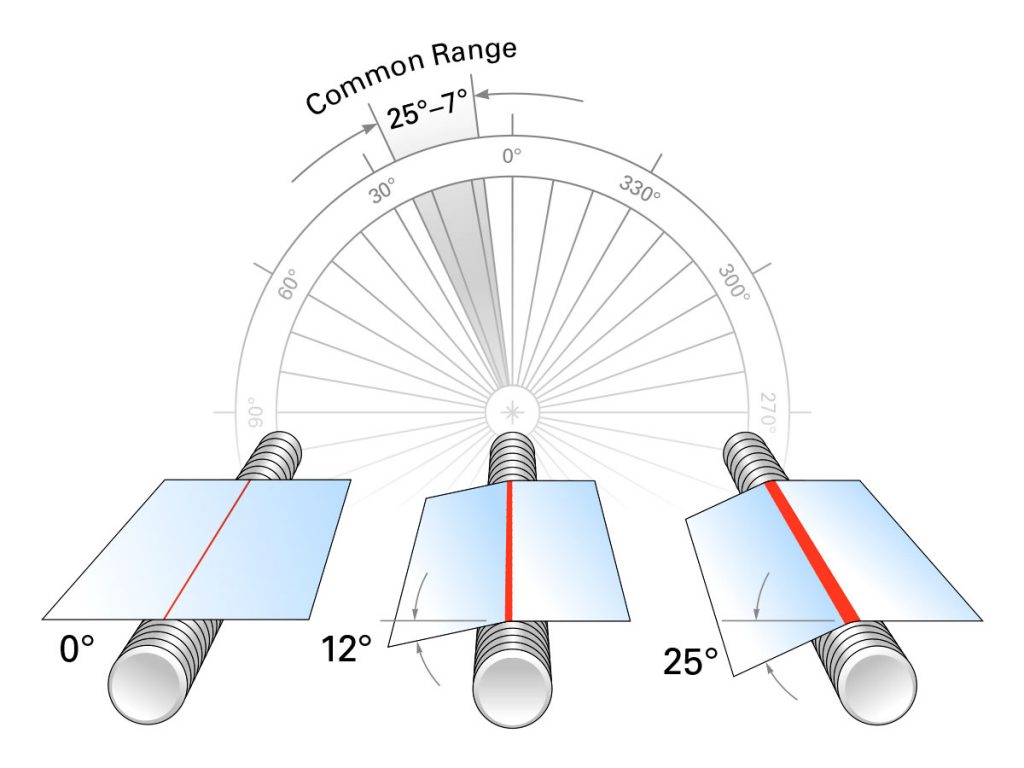 Application Parameters that Influence Required Wrap Angle
As noted above, a wrap angle that works for one product may not be ideal for another. Here are some other important variables to consider and how they relate to wrap angles:
Tension: Generally speaking, there is an inverse correlation between web tension and wrap angle: Heavy and uniform tensions across the face of the web require less (>7°) wrap angle. Conversely, lighter and looser tensions require a greater (<25°) wrap angle to compensate for the slack. See "Other" below.No machine and/or substrate is perfect and variations in tension across the face width are experienced on occasion.The idler roll directly before the metering rod should have independent height adjustments on each end. If a web is slightly looser on one side, this roll can be adjusted to compensate.This can also be addressed with bowed rolls or spreader rolls. If these adjustment methods are not available, then other methods of varying the wrap angle may be necessary to overcome these challenges.
Viscosity: During rod metering, the wedge of coating being driven into the rod by the moving substrate imparts a hydraulic force between the rod and the substrate, urging the substrate to move away from the rod. As viscosity increases, so does this hydraulic force.Low viscosity (< 300 cP) coatings often require a minimal (7-12°) wrap angle to achieve smooth, uniform coverage. Conversely, higher viscosity (>600 cP) coatings often require a greater wrap angle to minimize hydroplaning and maximize uniformity and coat weight control. Medium viscosity coatings (301-599 cP) will generally require a wrap angle between 12° and 25°, with the angle increasing with viscosity.
Line Speed: When line speeds increase, so does the hydraulic force between the substrate and the rod, which can play a significant role in your coating operation. Increasing hydraulic forces can also lead to surface tension issues, which is more often observed in films and other non-absorbent substrates. When this happens, coaters may need to combat these forces by increasing the wrap angle.
Pre-coat Flood: Pre-coat flood is the excess volume of coating applied to the substrate before contact with the rod. Customarily, pre-coat flood ranges from 3:1 to 10:1 depending on the application.Metering rods do not ordinarily apply coating to substrates, but rather remove the excess pre-coat flood, thereby metering a smooth, uniform target coat weight. The amount or percentage of pre-coat will likely have a large impact upon the degree of wrap angle required.Determining the percentage of pre-coat flood volume is critical to yielding maximum control at the point of contact with the rod. Lower (<300% of target coat weight) pre-coat flood volumes generally require less wrap for ease of control, while higher (>400% of target coat weight) pre-coat flood volumes generally require a greater degree of wrap around the rod.
Other: There are additional application parameters to factor in that can impact wrap angle:

Substrate: Whether using paper, film, or foil, substrates may not display a uniform tension in cross direction (CD). This occurs more so on papers and lightweight films. Few things are more frustrating than loose edges, or conversely, saggy centers of the substrate. Many converters have implemented "Bowed" rolls and "Spreader" rolls to minimize the problem but adjusting wrap angle is also often required to ensure a smooth and uniform target coating across the substrate. Of course, adjusting wrap angle should be the last application parameter determined. The goal is to use the least amount of wrap angle to achieve your coating objectives.
Rod Diameter: As rod diameter increases, so does the arc-length of surface contact with a given wrap angle. Therefore, wrap angles should often be reduced as rod size increases. However, you may also need to experiment with this to determine the best wrap angle for your application.
Rod Rotation Speed (RPM): Changing the rotational speed of the rod can influence the hydraulic forces between the web and metering rod. Wrap angles should be considered when changing the rotation speed of the rod to optimize fluid dynamics at the point of contact.
Rod Rotation Direction: Our customers typically rotate the rod against the sheet for paper and with the sheet but at a slower speed for films and other non-absorbent substrates. Changing the direction of rotation is another variable that will affect hydraulic forces and may require revisiting wrap angles.
The Key to High-Quality Paper Coating: Control
Wrap angle is an important variable in paper coating that should be locked down with proper procedures. For every product run, rigid Standard Operating Procedures (SOPs) should be in place to direct operators to set the machine up properly.
In summary, it's all about control. The more control you have both before and after your metering rods station, the easier it is to dial in the coating parameters to enhance your coating quality and efficiency and Coat with Confidence.